---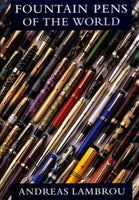 Our price includes delivery within the the UK and specified countries in the EU ONLY.  
If you are outside the EU, please contact us for a shipping quote
This is a must-have for serious collectors and is frequently referenced by pen sellers (including ourselves) as 'Lambrou FPOTW' with a page/picture reference. We bought our own copy in 1995 and still use it virtually every day.
The authoritative and comprehensive text features countries not previously covered in other books, a chapter on limited editions, and a chapter on materials from 1833 to the present day which defines processes such as lacquering, guilloche engraving and plastic identification. The development of design and logos is illustrated by specially produced line drawings. The text is complimented by many period advertisements.
'To say that this book is the definitive book on fountain pens to date is an understatement...' -- Glen B Bowen -- World Publications 'Pen World' Magazine (July/August 1995)
Master Edition first published 1995.  Our current stock is now from the 2014 reprint.
Note: At 3kg packaged, this book exceeds the weight limit for airmail
The price quoted here includes shipping with Royal Mail to the UK and by Parcelforce/DHL to Austria, Belgium, Denmark, Finland, France, Germany, Hungary, Ireland, Italy, Luxembourg, Netherlands, Poland, Portugal, Spain and Sweden
If your country is not listed here, please contact us for a shipping quote